Except when it is.
First off: Here we are mid june and I'm at about 248. That's down about 30 from the start of the year. Frustrating to say the least. Yes, it is progress and yes it is over 250 pounds from where I started. But no it is not the speed that I would like. (Hint: it never is.)
On a more interesting note: this weekend I spent money (something I'm excellent at) and bought a bike.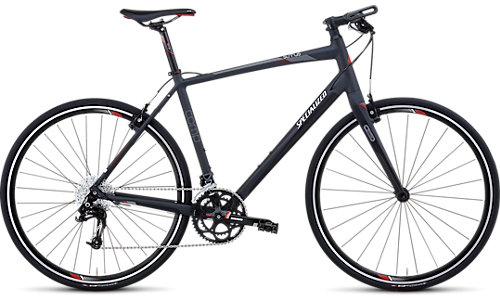 It's a
Specialized Sirrus Comp
. It's even got some carbon fiber bits! Although they call it a hybrid it's really more of a flat-bar road bike. Skinny tires, road gears, etc. It's a very nice dark dark grey (which they call "slate") and black combination. And to continue the theme I got a black/grey helmet:
We're going for a Johnny Cash theme here.
So what brought this on, you ask? I shall tell you. I've been looking for ways to be more active. Going to the gym is fine and whatnot, but it's not fun. It's boring as hell. Yes, it can be fun when I go late at night and there's no one around to see my lip-synching to my Glee playlist (Hungry Like the Wolf and Rio mashup? Excellent!) but in general it's just work. Riding a bike in the real world seems more interesting than riding a fake bike in the gym.
I thought I'd start off with a very simple goal – trying to ride my bike to Yahoo!. It's only 4.5 miles each way – an easy enough of a goal. But I was concerned about the lack of flexibility that had built up in my knees so I started some physical therapy to restore flexibility and it seems to be working. They let me start off with 5 minutes on a stationary bike at a time and then we added 5 minutes a week. When I was up to 20 minutes they said I could go bike shopping. (No need to tell me twice!)
I had initially looked at a
Trek FX 7.5
but the lack of ability to put bar ends on it kind of killed it for me. Plus, and I know this shouldn't matter – I didn't like the looks all that much. I went to
Cognition Cyclery
and fell in love with the Sirrus Comp. Their staff was amazing and I was able to get expertly fitted by Vanessa – she is VERY awesome. Can't recommend her highly enough. I also went to REI and took advantage of their big sale to get a
Thule Helium 3-bike rack
for the truck, the aforementioned helmet, and a few other bits and pieces.
I have quickly realized that my goal of riding to work isn't much of a goal – it takes about half an hour. Or about 10 minutes more than it takes to drive and park. (Parking at Yahoo! is a PITA.) But I also have a more long-term goal in mind – the AIDS LifeCycle in 2013. A 575 mile ride from SF to LA. That goal may seem crazy, but what is the point of losing all this weight if I can't do crazy things? If I enjoy road riding (and I think I might, since it involves machines and going fast-ish) then why not do something like this? Nothing to motivate you to get out there like training for something.
I'll keep you posted.