Current events compel action. Black Lives Matter. Black Trans Lives Matter. Those are words I believe in but are easy to say and I kept asking myself "what can I do to help?" Saying the words is fine, donating money is better, but is it enough? How to help in the right way?
My industry, the "world of Information Technology", certainly suffers from a lack of diverse voices. I've heard a lot of talk about how "there are no candidates in the pipeline"…ok, fine. But why aren't there? Is it a lack of training and opportunities? Or is it something much deeper – institutionalized racism and discrimination that keeps black people out?
Irrespective of the cause, we can do something about that. Here is what I've come up with: I've joined Blacks in Technology as a dues-paying member and donated to fund scholarships for people who want to get their CWNA. We've got 10 scholarships for this round. (We'll do another chunk in about 6 months.) It's for the "Self Paced Training Kit".
The key thing here is that I've aligned myself with BIT as a supporter and I'm listening. You can do the same. Joining and listening is just the beginning. Or, you can do what thousands of others like me are now doing; speaking out, bringing others along, donating, contributing and actively doing something.
If you've been to this blog before (or if you know me outside of this blog) then you probably know one of the areas of networking I am passionate about is Wi-Fi. One of the things I like about Wi-Fi as a career is how much education is valued. There is much to learn and a lot about Wi-Fi that we take for granted. Fortunately we have a great resource in the form of the Certified Wireless Network Professional certifications.
The path to being a Certified Wireless Networking Expert (a path I am on myself) starts with the the Certified Wireless Networking Administrator (CWNA) certification. It covers a lot of really great topics that folks often don't cover when they start out doing Wi-Fi:
Radio Frequency (RF) Technologies
Antenna Concepts
Wireless LAN Hardware and Software
Network Design, Installation, and Management
Wireless Standards and Organizations
802.11 Network Architecture
Wireless LAN Security
Troubleshooting
How to Perform Site Surveys
It gives you a very strong foundation about how Wi-Fi works and it's all vendor neutral. Cisco? Aruba? Mist? Arista? Ruckus? Doesn't matter – it's information that anyone working in Wi-Fi should have at their fingertips. As a wise man once said, "You have to learn WHY things work on a starship." (It was Captain Kirk. Kids, ask your parents.)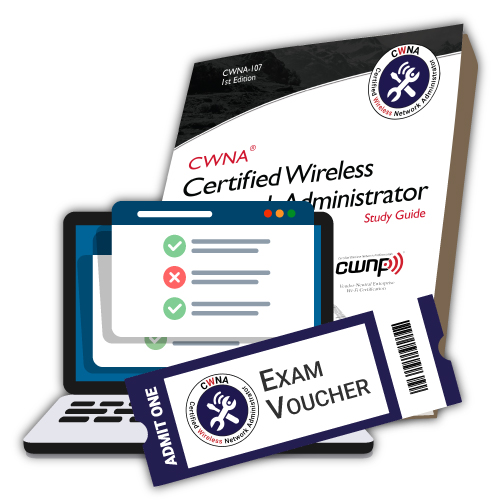 The self-paced training kit includes a study guide, access to an online self test, and a test voucher. CWNP's exams are available in an at-home format, so you don't need to go anywhere to get this certification. And one of the best parts of this certification, and about Wi-Fi in general, is that there is a lot of demand for wireless engineers all over the country. This isn't a skill that is just needed in a few places – they need Wi-Fi everywhere.
(One slight note: Links will take you the CWNA-107 exam, which is being refreshed in September with new goodies like Wi-Fi 6. We may wait for that to drop before sending out kits. Just a 'heads up'.)
I'm not just going to throw money at the problem, as fun as that is. I am pledging to be a resource and mentor for anyone seeking to walk the path of the Wi-Fis. Whether it's technical questions or anything else, feel free to slide up in those DMs (or probably email) if you want help. The Twitters, LinkedIn, Slack, Discord, whatever works for you.
If you're wondering "why Wi-Fi?" it's because of how much Wi-Fi is needed (and how bad a lot of it is). A couple of the major focus areas for Wi-Fi (we usually call them "verticals") are K-12 education and healthcare. We're building networks in parking lots for COVID-19 testing, helping teachers and students get connected, and providing support in hospitals so that front-line healthcare gets done. Wi-Fi is more important than ever.
So if this sounds interesting to you then you may be wondering what to do next. The logistical details are still being sorted and when BIT is ready for students they'll announce it and I'll be sure to try and hype it. The money is donated, so this is happening. And thank you to the NVIDIA Foundation for that sweet, sweet corporate match.
I cannot thank BIT enough for being such a great partner. I would have zero idea where to start without their help and Peter Beasley has been an absolute pleasure to work with. They're doing the hard part, I'm just a guy with an idea. As anyone who has done a startup knows, ideas are cheap – execution is everything. And thanks to Keith Townsend who suggested I reach out to BIT in the first place.
This may sound strange to those of you who haven't encountered it, but Wi-Fi is really a community. We help each other and share in our common burden – which is folks blaming the Wi-Fi when it isn't the Wi-Fi. (It's DNS. It's ALWAYS DNS.) I've really enjoyed joining this community, and I hope you will enjoy it too.